Animattronic is back again, with another intense "Hive Mind" remix!
Renowned for numerous remix renditions of popular FiXT songs, such as "ULTRAnumb" & "Erasus" – Animattronic recently traveled back to the 90s, in his remix of Circle of Dust's "Hive Mind"! Fans internationally raved about the remix, but he's got one more remix up his sleeve…
The Animattronic Volcania remix incorporates a dirtier industrial sound; weaved together through his skillful mastery of electronica elements. With a stronger guitar presence that is reminiscent of original 90s industrial metal; vocals are emphasized well along the riffs, with a more intricate & nuanced emotional intensity. Circle of Dust fans are sure to enjoy this latest remix!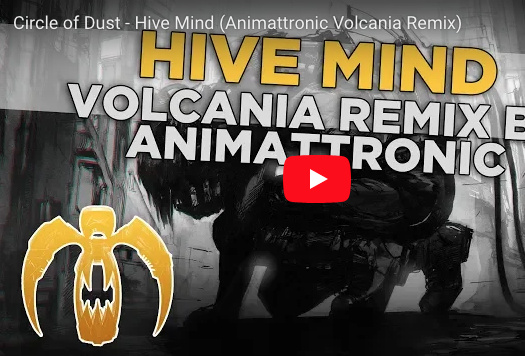 More Information:
Following the release of alt_Machines, Circle of Dust has yet another remix to reveal from long-time FiXT fan, friend and remixer, Animattronic. The talented producer originally gifted FiXT with two different remixes of the gritty 2016 track, "Hive Mind", assuming only one would be published. Alas, Animattronic's tracks were so hard core FiXT decided to release both! Please enjoy the all new Volcania remix!
Behind the Animattronic project, stands artist/producer and visual FX / video animator Matthew Akin. A Circle of Dust fans since the 90s, Animattronic has created many of the official Circle of Dust lyric and visualizer videos to the album Machines of Our Disgrace along with many other FiXT video projects in recent years, and he makes a cameo in the upcoming Circle of Dust documentary.
Purchase/Stream:
https://fanlink.to/hivemindvolcania